Hey guys, do you protect your hair from heat? Naturally, I don't only mean hot summer days but also hairdryers or extremely heated flat iron. Such devices remove water from hair. How to safeguard it from damage? I've been using heat protectant sprays for many months. As I've tested a lot, I'm ready to recommend top choices. I'm making an honest round-up: which thermal protection spray is the best buy? Check it out!
What does a heat protectant spray do?
BUILDS A PROTECTIVE COATING ON HAIR, GUARDING FROM HEAT AND LOSS OF WATER
SHIELDS FROM TOXINS, SMOG AND FREE RADICAL DAMAGE
PREVENTS FRIZZ FROM HUMIDITY
HALTS STATIC FLYAWAYS
MAKES HAIR EASIER TO STYLE, AND NOURISHES
DELIVERS SHINE AND SMOOTHNESS
MANY OF THEM HELP IN FLAT-IRONING
RANKING! Best Thermal Protection Sprays for Hair – Reviews
NANOIL HEAT PROTECTANT SPRAY, 200 ml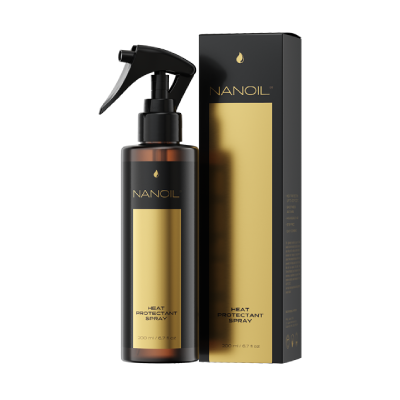 HEAT PROTECTANT SPRAY FOR: any hair, from low to high porosity, thick, fine, dry, damaged
My favorite <3 From reviews I can see it's not just my favorite. It's among top-rated heat protectants. I simply love using Nanoil products on my hair. This spray allows my hairdo to look its best, plus it smells lovely, doesn't weigh strands down, and keeps hair flawless all day. On top of that, it is perfect for protecting the locks from the sun, toxins, cold weather, and dry air. Added silk proteins deeply nourish the hair, leaving it beautiful, bouncy and luminous. I can't help touching it because it feels so soft! Nanoil Heat Protectant Spray made me forget about the static and frizzy flyaways. Finally, I need to say it is very easy on the pocket.
Visit – www.nanoil.us
KEMON AND HEAT SPRAY 13, 200 ml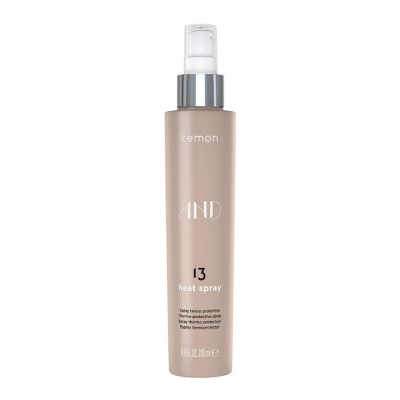 HEAT PROTECTANT SPRAY FOR: thin, fragile hair
Kemon is known as a seller of good-quality products among hair-care junkies. This spray shows the good rep is deserved. Kemon And Heat Spray 13 is a great heat protectant; it's not rich in many nutrients but it's done on purpose to avoid weighing fine, fragile hair down. Ferulic acid and flavonoids from grape seeds care for limp hair, protecting it from the damaging effect of external conditions and hair dryers. This spray also helps tame frizz and hold hair in place – not for the entire day but even a few hours mean a lot if strands are thin.
PHILIP B THERMAL PROTECTION SPRAY, 60 ml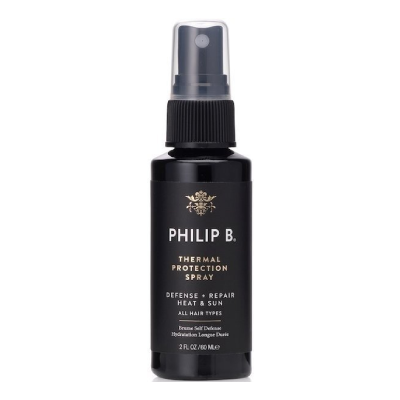 HEAT PROTECTANT SPRAY FOR: thick, heavy, low porosity hair
Even though thick hair, which has low porosity, is more resistant to thermal damage than fine, fragile hair, there's still risk – any hair can get hurt in the end. Even if your locks are thick and healthy, I think it is better to be safe than sorry so protect it from the sun, frost and heat. Philip B Thermal Protection Spray is cut out for this purpose, plus it helps style stiff and heavy strands. The formula has beneficial amino acids, botanical extracts, vitamin E and castor oil – ideal for thick hair which tends to get greasy. Castor oil also works by protecting the hair color and keeps it from fading. It's a really good thermal spray but to me it's overpriced and comes in a small bottle.
BUMBLE AND BUMBLE HAIRDRESSER'S INVISIBLE OIL HEAT/UV PROTECTIVE PRIMER, 250 ml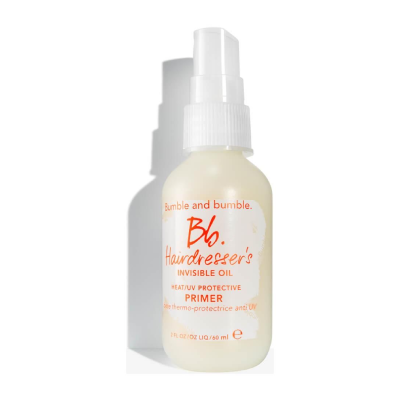 HEAT PROTECTANT SPRAY FOR: any hair, best for dry and curly hair
This one is not for everyone because it's based on oils so it will probably weigh down fragile hair which is prone to oil build-up. The formula is packed with six oils which will guard dry hair from the damaging effect of external aggressors, dryness and loss of water. The blend of so many oils is heavy but it's great for taming dry, stiff hair. If your locks tend to lose water and break off plus they're affected by a hairdryer or other heated devices, then Bumble and Bumble Primer will help you a lot during daily hair care. I could only put it in the hair ends because when used all over the hair, it made it look greasy. If you're curious about the oils infused into this spray, here you go: sweet almond oil, grapeseed oil, coconut oil, macadamia oil, argan oil, safflower oil and monoi oil.
DAVINES ESSENTIAL HAIRCARE MELU HAIR SHIELD, 250 ml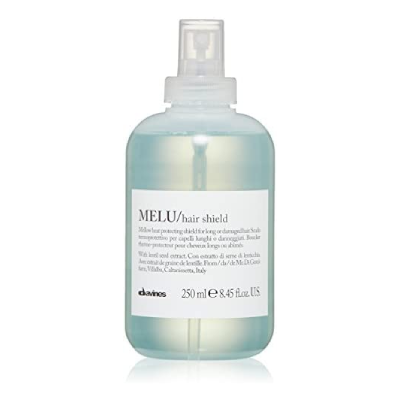 HEAT PROTECTANT SPRAY FOR: all hair types
The Davines spray was my number-one heat protectant before I got Nanoil's spray (which brings more benefits for my hair, plus it's easier on the pocket!). However, I really liked it: Villalba lentils extract was enough to guard my hair from external conditions, make it easier to style and prevent damage. Fun fact: lentils seeds abound in sericin and glutamic acid, which are amino acids that build the so-called NMF – natural moisturizing factor.
Will you damage-proof your hair using any of the heat protectants from my round-up? I hope so! Share your effects! <3