Hello ladies,
Do you struggle with thin, unruly, or sparse eyebrows that are hard to control? Do you want to know the secret of DIY brow lamination – an amazing treatment that can completely change your brow routine? I have great news for you! I managed to prepare a ranking of the best at home brow lamination kits which allow you to achieve incredible results and let you enjoy perfect eyebrows! Make sure to take a look at it and go for change for the better! 🙂
I have to admit that I have always been unhappy with the appearance of my eyebrows. I feel like I've tested every possible brow-styling product, but none of them provided me with the effect I wanted.
I finally came across home brow lamination. I watched a couple of tutorials on YouTube and was very interested in it. I decided that I needed to get myself a good brow lamination kit as soon as possible and start my adventure with styling my brows using this method. It quickly turned out to be sensational – and I'm here to tell you one thing: laminating eyebrows at home can be really easy! 🙂
How long do the effects of eyebrow lamination last?
The effects of eyebrow lamination, whether done by a professional or at home, can last as long as 1.5 months – that's up to 6 weeks without any brow makeup and without worrying about touch-ups!
This is by far the biggest advantage of the brow lamination treatment I noticed: comfort and confidence that your eyebrows look good at all times!
So… which home brow lamination kit to choose? 🙂
TOP 5 brow lamination kits – my ranking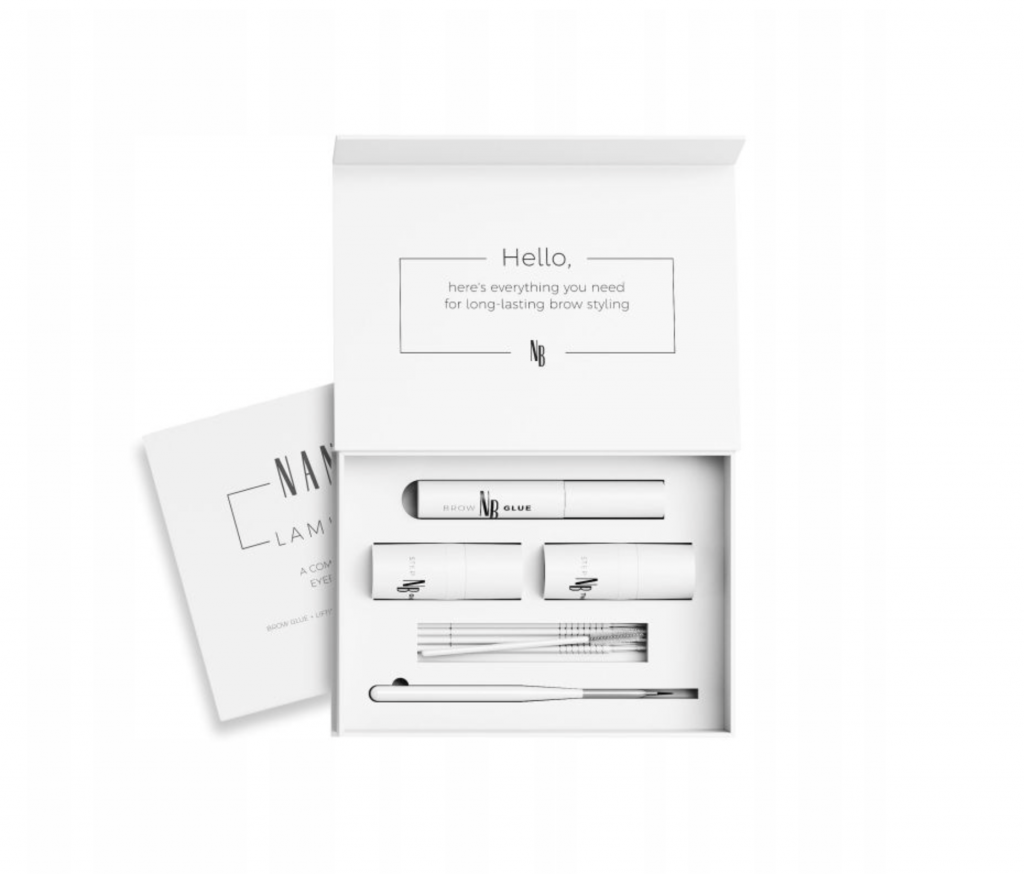 Where to buy Nanobrow Lamination Kit?
On the official website www.nanobrow.us and in regular beauty stores.
MY RATING? 10/10
I can across this brow lift kit at the beginning of my adventure with DIY brow lamination at home and it is still with me today. I remember that it impressed me from the very first use. At that time I still didn't fully know how to laminate my eyebrows by myself – I learned it thanks to this kit. It was really easy, as there are clear instructions and numbered bottles inside the kit.
What effects can I achieve?
This eyebrow lamination kit ensures I can give my brows a thicker look and fill in any unwanted sparse areas. I also noticed that my eyebrows looked thicker and gained a lovely shine. I have quite stiff hairs by nature, and with the help of this kit, I managed to make them softer. With Nanobrow's kit, I can count on a laminated brow effect that lasts for up to 1.5 months, and there's no need for touch-ups during this time.
What else you should know…
Nanobrow Lamination Kit contains everything you need to laminate your eyebrows at home. It is very efficient, as it lasts for about 11 treatments. None of the brow lamination products inside the kit irritate my skin or run into my eyes. I think this is a good eyebrow lamination kit for sensitive skin. It also works great if you struggle with unmanageable or unruly arches. It shapes them well and allows you to perfect every detail. The applicators are precise and comfortable, it's easy to get the desired effect using them.
PROS
perfectly styles and fills in the eyebrows
the effects are impressive
no matter if your eyebrows are thin or thick and unruly – it works! 🙂
suitable for beginners
ensures the eyebrows gain a perfect shape and no brow hairs stick out
CONS
#2 MIYA LASH BROW LAMINATION KIT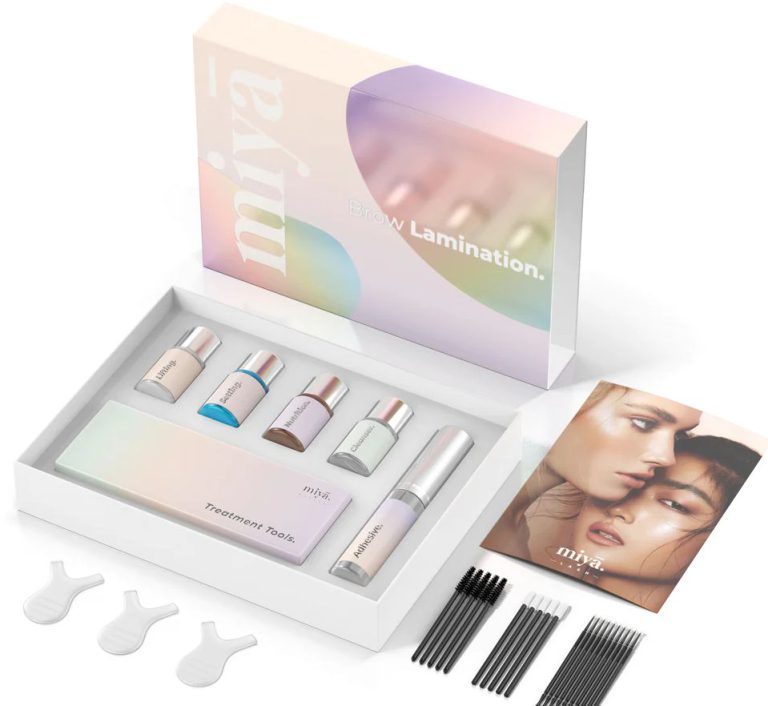 Where to buy Miya Lash Brow Lamination Kit?
In online and regular beauty stores
MY RATING? 9/10
I got this brow lamination kit from a good friend for my birthday. She found out that I started laminating eyebrows at home 🙂 I was somehow skeptical about it at first but soon found out it delivers lovely effects and shapes the eyebrows well. It comes in interesting, colorful packaging, which immediately caught my attention.
What effects can I achieve?
My brows are nicely styled and don't stick out in all directions. I also notice the desired lift. The result is really satisfactory, but this eyebrow lamination kit doesn't quite deal with sparse areas. If you have quite a few of them, as I do, it may not work so well. However, if you only want to shape your brows well, this kit might be something for you 🙂
What else you should know…
The brow lamination effects with this kit last for several weeks. The products are gentle on the skin and have a pleasant, gentle formula with keratin, which strengthens and nourishes eyebrows.
PROS
works great for shaping eyebrows
long-lasting effects
nourishes eyebrows
eyebrow-laminating products do not cause irritation
CONS
does not work well when it comes to filling in the eyebrows
#3 REFECTOCIL BROW LAMINATION KIT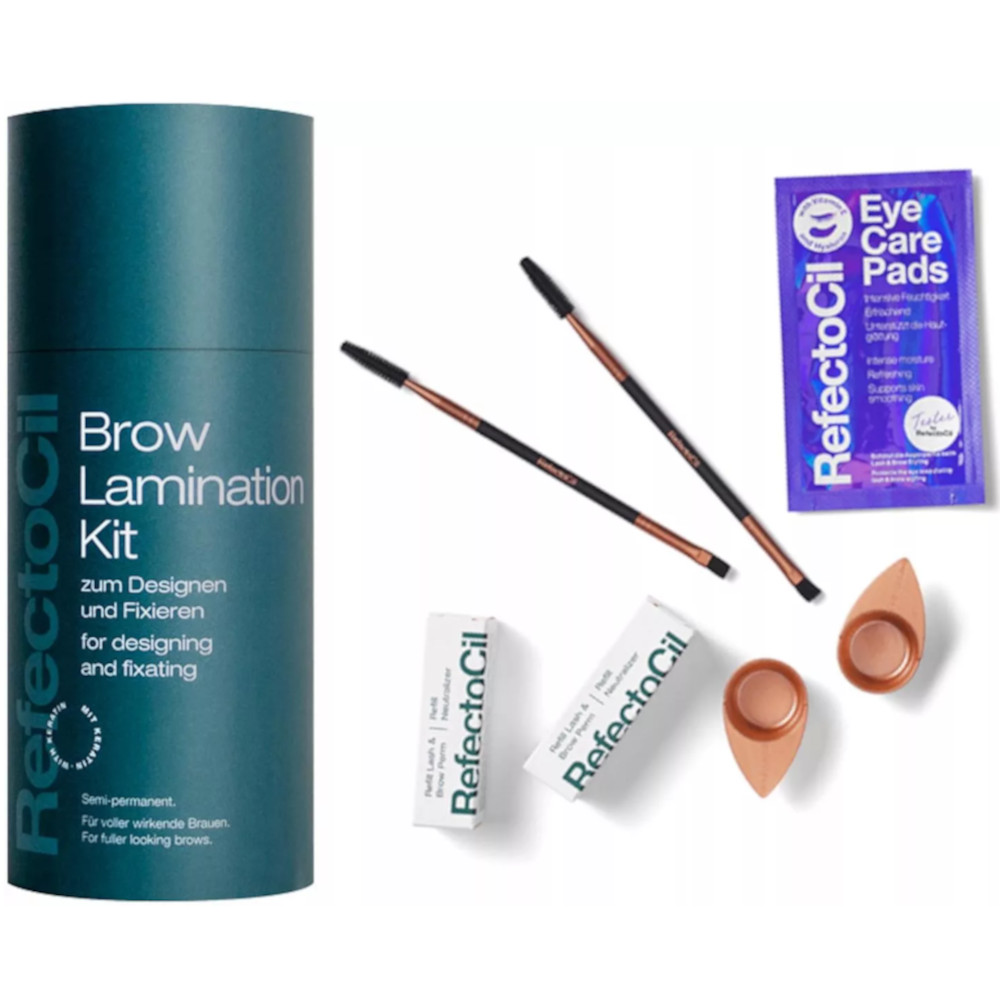 Where to buy Refectocil Brow Lamination Kit?
Online and in regular beauty stores
MY RATING? 8/10
Every time I reach for a new brow lamination kit, I worry about getting an allergic reaction. Fortunately, using this kit, I haven't encountered any problems, and my eyebrows started to look much better. Importantly, this brow lamination kit is very easy to use and comes with convenient applicators.
What effects can I achieve?
With this DIY brow lamination kit, you can expect your eyebrows to look a little thicker and fuller, and be properly shaped. My eyebrows become more expressive and I don't have to worry about my brow look at all. The problem, however, is durability. The effects lasted 4 weeks in my case, then the eyebrows began to look worse.
What else you should know…
This eyebrow lamination kit comes with solutions with safe formulas that will not irritate the skin. In addition to everything you need to laminate your eyebrows at home, it also comes with free eye pads.
PROS
defined and thicker eyebrows
safe brow-laminating products
easy to use
CONS
price
not very long-lasting effect
#4 SASSY SAINTS BROW LAMINATION KIT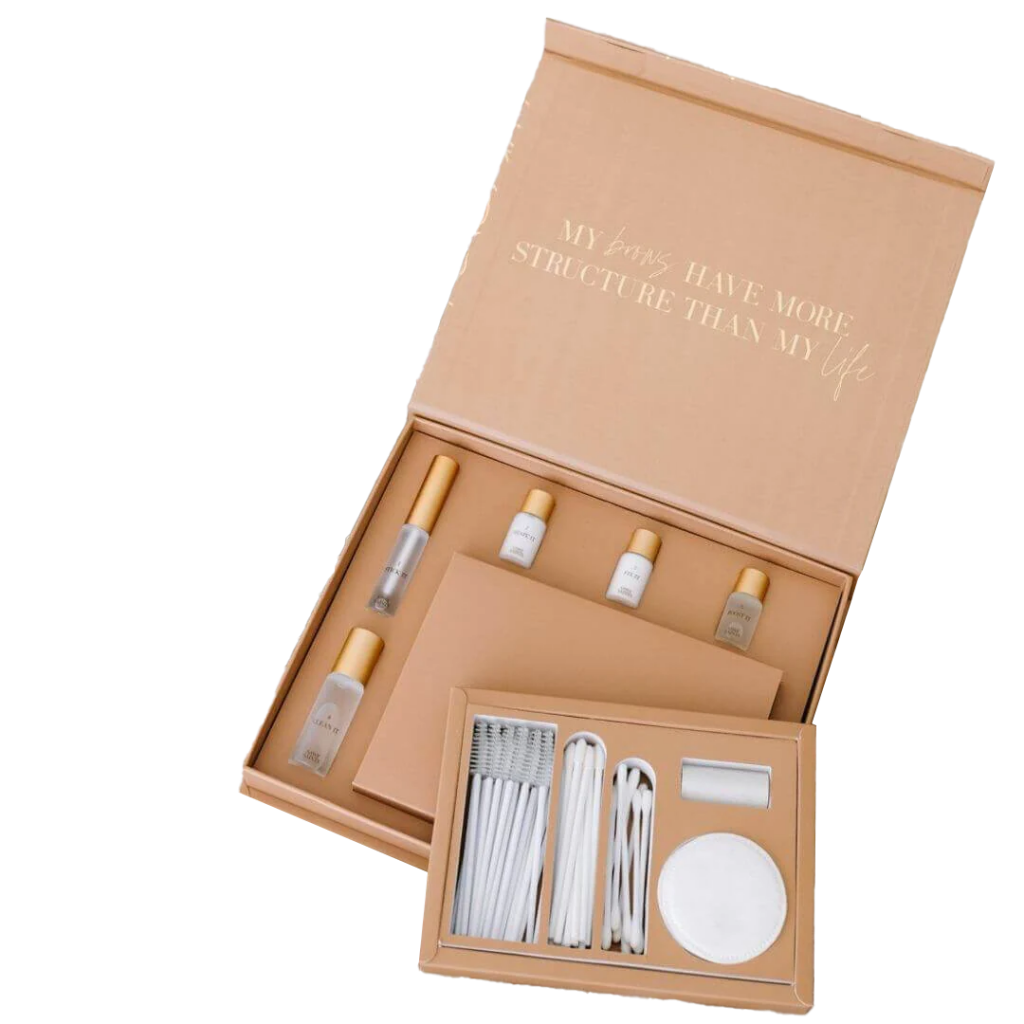 Where to buy Sassy Saints Brow Lamination Kit?
On the official website and from online drugstores
MY RATING? 7/10
I had the pleasure of testing this brow lamination kit recently. What caught my attention was the simplicity of this kit and its ease of use. It was definitely created with beginners in mind. You can perform eyebrow lamination with it in three steps, using a video tutorial as extra help. It comes in nice packaging, I liked it very much. And how about the results of my brow lamination?
What effects can I achieve?
My eyebrows became more defined after using this kit, and there was no question of unruly hair. It also filled in any gaps well. However, I didn't like the consistency of the products, they didn't dry up fast enough and I was afraid they would run into my eyes.
What else you should know…
Eyebrow-laminating formulas are vegan-friendly and have not been tested on animals. They are suitable for sensitive skin. They contain no parabens or silicones. So, if you pay special attention to the formulas of the cosmetics you choose, this brow lamination kit will definitely meet your demands.
PROS
great for shaping and filling in eyebrows
durability of effects
vegan-freindly brow-laminating products with safe ingredients
CONS
consistency that doesn't allow the products to be applied comfortably
the applicators could work better
not very efficient, enough for only 6 individual treatments
#5 MAKEUP REVOLUTION BROW LAMINATION KIT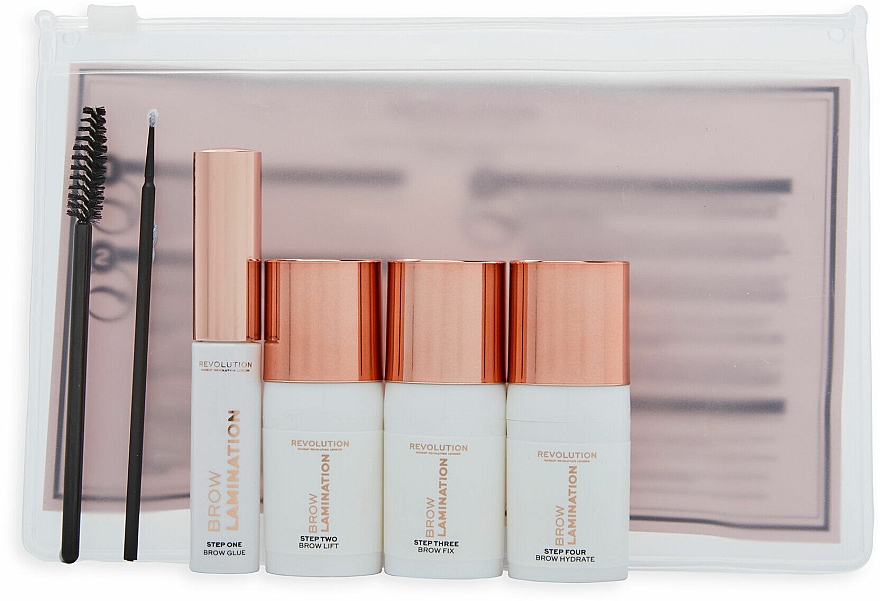 Where to buy Makeup Revolution Brow Lamination Kit?
In regular and online stores
MY RATING? 6/10
I reached for this home brow lamination kit because it was on special offer. I figured it couldn't hurt to give it a try. I immediately liked the handy applicators and the ease of use. Unfortunately, it worked a bit worse later on, but I thought I'd include this kit in this comparison anyways as it may still prove suitable for some of you.
What effects can I achieve?
After testing this brow lamination kit, I noticed that my eyebrows looked thicker and nicely shaped. Unfortunately, the products slightly irritated my skin and the redness lasted about 10 minutes. The brow lamination effects themselves were satisfactory, but I think that owners of sensitive skin should consider choosing a different eyebrow lamination kit. Of course, the fact that the products irritated my skin does not mean that the same will happen in your case.
PROS

slightly thickens and shapes the eyebrows
delivers long-lasting effects
comes with good applicators
CONS
can irritate the skin
DIY lamination with this kit is quite time-consuming
Brow lamination at home or a beauty salon? Cost comparison
I'm sure many of you are wondering which option is more cost-effective, so I decided to prepare a comparison that may help you decide.
Eyebrow lamination in a beauty salon: The cost of brow lamination in a beauty salon depends, of course, on the salon and the products used. Typically, the price of this treatment is comparable to one kit for DIY lamination. However, it is important to remember that brow lamination is not a one-off procedure. The effects usually last about 6 weeks, which means that the treatment needs to be repeated regularly.
Eyebrow lamination at home with a brow lift kit: brow lamination kits available on the beauty market are still a more affordable option. With one kit you can perform the treatment at least several times, which makes it a really great way to save money 🙂
In conclusion, DIY brow lamination at home with a good kit is definitely more cost-effective than a professional treatment at a beauty salon. If only you are ready to spend some time laminating your eyebrows at home, it will definitely pay off and you will learn new skills in the process 🙂
Perfectly-styled brows? Desired brow definition? How about filling in the gaps? Reach for a good brow lamination kit and provide yourself with effects you thought you could only get with the help of a professional.
I hope my ranking of the best DIY eyebrow lamination kits will prove useful for you! 🙂
Let me know if you want me to reveal how to laminate eyebrows step by step in my next post!
Have a lovely day!