Hey!
Here comes a new post. This time I'm going to review Nanoil Jojoba Oil, which is a natural cosmetic that I've been having over for 4 weeks and… I don't think that I'll chuck this guest out of my home any time soon 🙂 If you are curious why, keep reading my newest review.
Enjoy reading!
I fell head over heels in love with beauty oils a few years ago. Today, I can be proud of my vast collection of natural oils, which recently has been enriched with jojoba oil. Although castor oil is still the best one to grow long hair and almond oil is unrivaled in freeing my delicate face from makeup, I'm continuously discovering new uses of jojoba oil! And this is mindblowing!
JOJOBA OIL IN HAIR AND BODY CARE: CHEMICAL CONSTITUENTS AND BENEFITS
I'll start presenting you this beauty product by revealing its biggest secret. Ready? So here it comes: Jojoba oil isn't oil. Yes, you're getting this right! In terms of chemical composition jojoba oil is wax, however, due to its runny consistency it resembles more of oil, doesn't it? Just look: it's colour is yellow, it carries no clear aroma, is lightweight and penetrates skin in no time.
If you care for getting a natural cosmetic with long expiration date, jojoba oil makes the best choice: it doesn't go rancid and stays fresh for years!
Natural jojoba oil contains the following chemical constituents:
EFAs, which are essential fatty acids
vitamin E that rejuvenates and combats free radicals
vitamin A that is responsible for nourishing and revitalizing
squalene that is fungicidal and antiseptic
phytosterols that improve natural skin processes
WHAT ARE THE BENEFITS OF USING JOJOBA OIL IN HAIR AND BODY CARE?
As mentioned above, day by day and week by week I keep discovering new incredible properties of jojoba oil.
First of all, this is an emollient that provides protection. In other words, its task is to maintain hydro-lipid layer of skin in its good shape. Additionally, it displays antibacterial and fungicidal properties which make the oil perfectly suitable for being applied to problematic skin. Moreover, jojoba oil is a strong, natural antioxidant capable of sweeping away free radicals, which are harmful for our skin.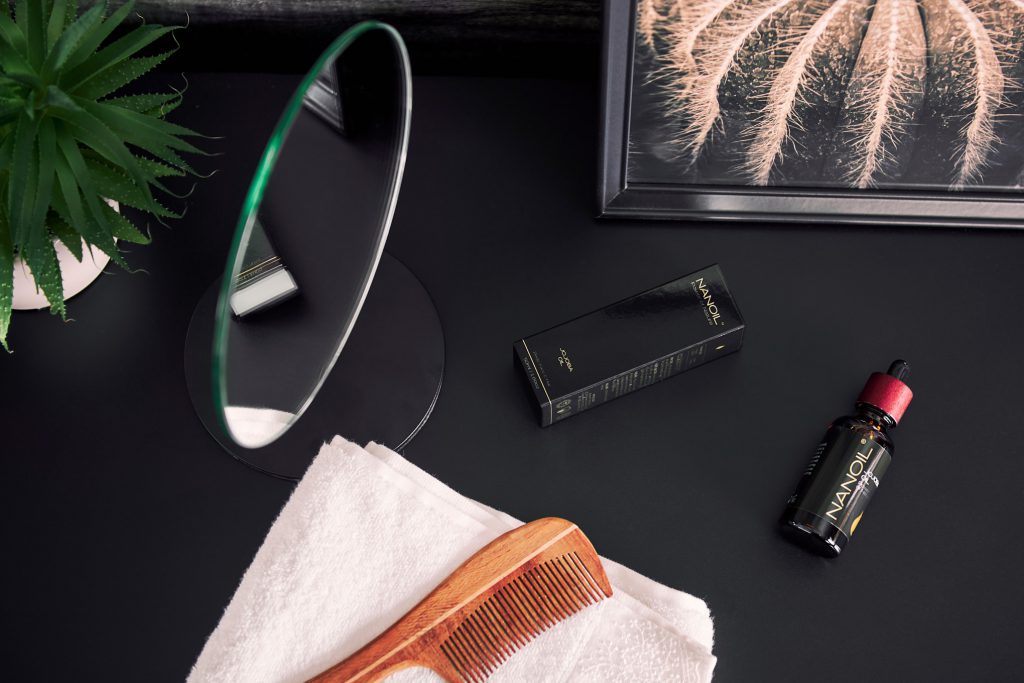 That being said, it becomes clear why jojoba oil delivers such stunning effects providing that it's regularly applied to hair, scalp, body, face, nails and so on, and so forth.
The key features of jojoba oil:
replenishes dry skin and hair with water
leaves skin soft and smooth
improves skin suppleness, minimizes cellulite and stretch marks
delays ageing processes
supplies hair and skin with precious nourishing substances
fosters self-regenerating processes of hair and strands
soothes irritations and inflammations
shields against external aggressors
THE BEST OF THE BEST: NANOIL JOJOBA OIL
All of the above-listed properties are offered by Nanoil Jojoba Oil, which is my favorite oil which I've actually mentioned at the beginning of my review. Do you want to know why I recommend this oil?
The high quality of Nanoil Jojoba Oil leaves us stunned – it's cold-pressed, unrefined, organic and is awarded Ecocert label.
In plain English, the producer makes his best to obtain jojoba oil from the finest sources and makes sure that this pure jojoba seed extract isn't contaminated by blending it with other substances. You won't find here any preservatives, silicones, colorants, synthetic aromas. Nanoil Jojoba Oil equals 100% pure jojoba oil!
Classy and rich in nutrients Jojoba Oil by Nanoil can be used in many ways. I just adore products like this one: multi-purpose so it deals with a few tasks at the same time.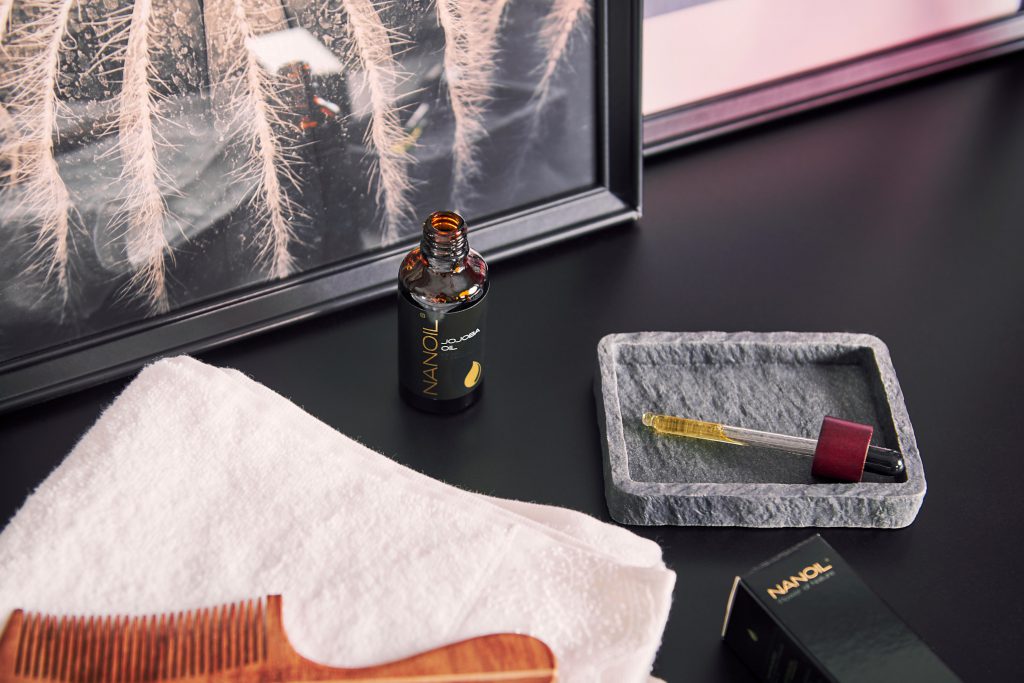 Personally, I use Nanoil Jojoba Oil in three ways:
Hair oil treatment – I spread the oil over my hair (sometimes I dampen it first) before washing which makes my strands smooth, soft, full of shine and easy to comb. With time hair gets stronger, regenerated and more beautiful.
Makeup removal – I pour jojoba oil on damp cotton pad to use it to take off colour cosmetics and clean my face. This oil doesn't only deal with impurities really well but also it leaves face conditioned, soothes possible irritations, moisturizes, smooths out and beautifies complexion.
Full body massage – due to its ability to penetrate skin fast, this oil is commonly used during body massage. The truth is, introducing jojoba oil into massaging produces only favorable outcomes: it nourishes skin, smooths is out, makes it soft, adds shine and improves elasticity that skin lacks with time.
Naturally, there are more than three uses of Nanoil Jojoba Oil, as there are more oils than just this one!
If you think that you might like Nanoil oils, visit [www.nanoil.us] where you will find Jojoba Oil that I've just reviewed for you. Also, you will find there the remaining five natural beauty oils: argan oil, sweet almond oil, avocado oil, macadamia oil and castor oil.
In my humble opinion, it's a good idea to try them all! 🙂