Eyebrow care matters to me a lot and I can't imagine not including it in my daily beauty routine. My Nanobrow serum helps me with that. Read my latest post and find out how it works, how I use it, what ingredients it holds and a few extra essential facts. Have a good time reading on 🙂
Why is eyebrow care worth it?
Do you know that brows have a life cycle and fulfil specific functions? An eyebrow grows out and falls out within four months or so. Besides, they are extremely important to us, enhancing the face, showing emotions, protecting the eyes. Therefore, they're worth taking care of with the help of effective products. That's why I've chosen Nanobrow serum.
How Nanobrow serum works?
In brief, Nanobrow has a conditioning effect on eyebrows. Let's get some details though. What does this brow care really mean? What's the effect? Nanobrow eyebrow serum:
Stimulates eyebrow growth
Affects eyebrow length and thickness
Slightly darkens eyebrows
Nourishes eyebrows and skin around them
Protects against damage
Keeps brows from falling out excessively
Repairs and strengthens eyebrows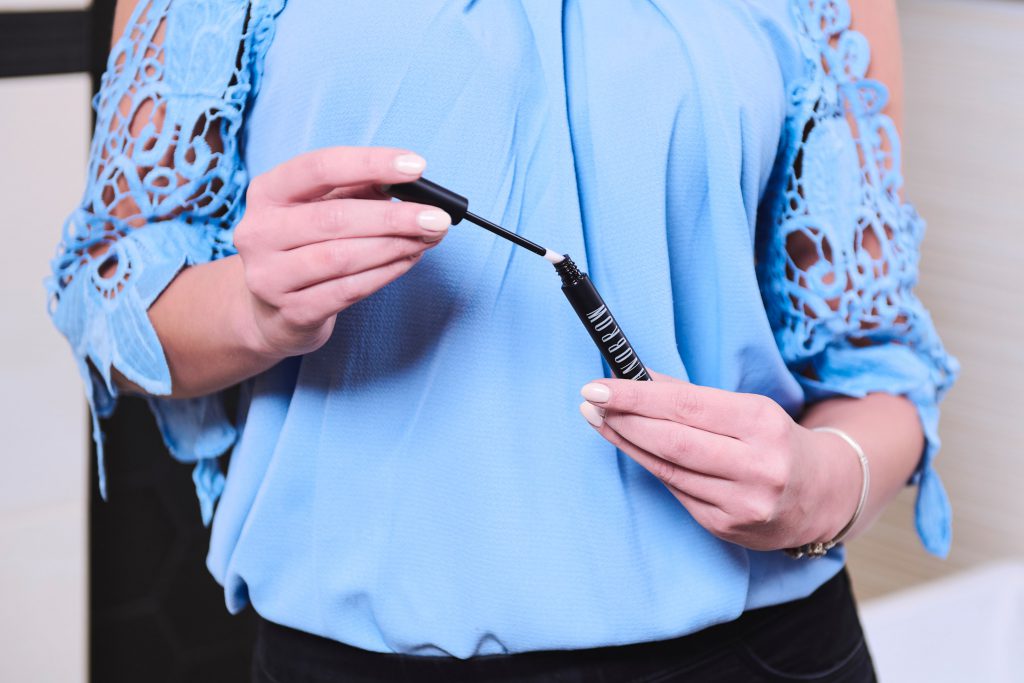 How I use my Nanobrow eyebrow serum?
In order to have Nanobrow work the way it should, you must strictly follow directions for use.
Nanobrow serum is applied every evening to clean, dry skin above the eyes. I always remember to remove all makeup products and use a face toner. I apply a moisturiser and eye cream after the serum.
One brushstroke is all it takes to condition the eyebrows. The applicator has been designed so as to treat one eyebrow arch at a time.
Nanobrow eyebrow serum is instantly absorbed, leaving no residue or clumps. I'm now ready to use my moisturiser and eye cream.
What ingredients are included in Nanobrow bottle?
The serum is made up of active and natural substances which condition brows and skin. Among others, there's Baikal skullcap extract, wheat shoot extract, soybean extract, ginseng extract as well as lactic acid, panthenol and arginine. Their main goal is stimulating brows to grow and strengthening hair follicles. The components also keeps brows moisturised, shield against outside aggressors and hold back eyebrow loss.
Who is Nanobrow serum designed for?
Nanobrow is made for you if you've got the following beauty needs.
You want to regrow your eyebrows.
Your brows are short, sparse, thin
Your brows are falling out in excess
Your brows are weak and prone to damage
You think your eyebrows should be darker to match your skin tone
You're ahead of a big event and need to look better
You've over-plucked your brows
You've lost eyebrows as a consequence of an illness
There are gaps in your brow arch
You want to care for the skin near the brows too

Extra facts on Nanobrow eyebrow serum
How much is Nanobrow? It doesn't belong to cheapest products but I've come to a conclusion during my treatment that the quality, effectiveness and comfortable use are worth the price.
How to store Nanobrow serum? I keep it on my dressing table. Bathroom's high temp and humidity aren't good for keeping the serum safe. After each use, I tightly close the bottle and put it upright on the table.
What's the size of Nanobrow bottle? The vial holds 5 ml of the serum which is enough for carrying out the full treatment. Learn more at nanobrow.us